WARNING!
HOT SAUCE
MUST BE
SHAKEN
BEFORE USE
Give the bottle a good shake before use just to make sure you get that '100% real', all natural, award winning hot sauce flavour.
Lingham's win 2016 Texas Fiery Food Challenge!
The most prestigious awards in the spicy food industry were just announced at the Fiery Food Challenge in Irving, Texas, with our Hot Chilli Sauces coming out on top!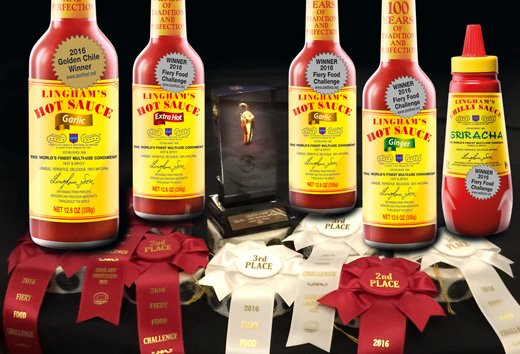 Lingham's Garlic Hot Chilli Sauce, Ginger Hot Chilli Sauce, Extra Hot Chilli Sauce and Sriracha took home 1st, 2nd and 3rd place awards.
The Fiery Food Challenge pits products from across the US and internationally against one another in more than 80 categories.
Lingham's has won 6 awards, including 1st Place Golden Chilli award for our classic Garlic Hot Chilli Sauce and 2nd Place for our fiery Extra Hot Chilli Sauce in the Extra Hot Sauce category.
Check out why Lingham's is the world's finest multi-use, multi award winning condiment.