Lingham's Chili Coulis Steak
If you're looking for a sauce to serve alongside steak then look no further but remember this lovely brick-red chili sauce also tastes good on everything including chicken, beef, and even turkey.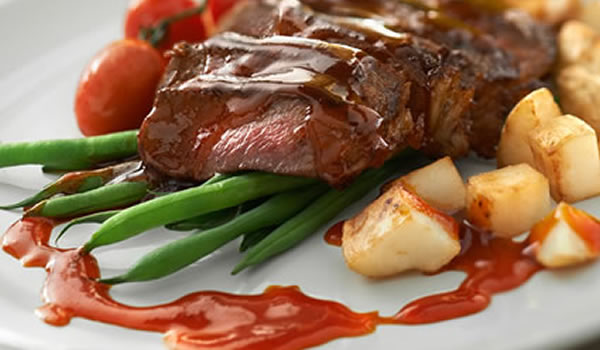 Ingredients:
2 pc ribeye or sirloin steak
Salt and black pepper to season
Oil for cooking
Accompaniments:
Roasted cherry tomatoes
Roasted potatoes
Buttered baby French beans
Lingham's Coulis:
½ bottle Lingham's Hot Chili Sauce
6 shallots, chopped
1 TBSP Worcestershire sauce
Salt to taste
Method:
Cut the potatoes into cubes, toss with oil and season with salt and pepper, roast in oven until cooked, roast the cherry tomatoes together about 5 minutes before then potatoes are done.
For the beans, blanch them and toss in a little melted butter and salt to taste.
Season steak with salt and pepper and pan fry until desired doneness (i.e. medium rare, medium etc). Set aside to rest while you make the coulis.
To make the coulis, add 1 tablespoon of butter in a pan, sauté shallots until soft and fragrant, add in the rest of the ingredients and reduce over medium high heat until thick.
Arrange accompaniments on 2 plates, you either serve the steak sliced or whole, drizzle with coulis and enjoy!