Lingham's Classic Fish & Chips
Classic Fish and Chips Lingham's style can be safely served anywhere from formal white table cloth dining to casual down on the beach lounging. Potato chips dipped in Lingham's is something worth savoring.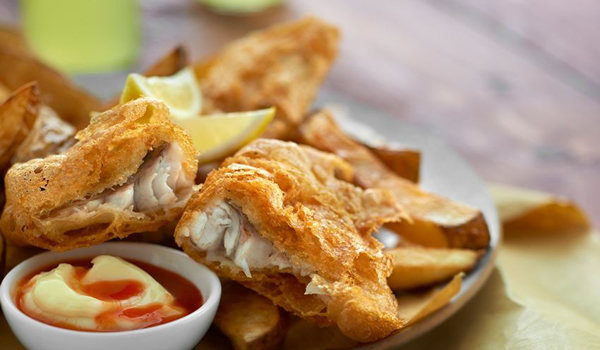 Ingredients:
4 sea bass (siakap) fillets
Season to taste with salt and pepper
Oil for deep frying
Batter:
1 pkt hup loong frying flour
1 can soda water
Chips:
4 potatoes, cut into thick batons
Coarse sea salt for sprinkling
Lingham's Dip: (mix together)
4 TBSP Lingham's chili sauce
6 TBSP mayonnaise
Method:
Season fish fillets with salt and pepper. Heat oil in a wok for deep frying.
Fry potatoes in oil until golden brown, remove and drain off excess oil, sprinkle with sea salt to taste.
To make the fish batter, leave some flour for dusting the fish and mix the rest with the soda water.
Dust fish with the flour, dip in batter and deep fry until golden brown and crispy. Drain off excess oil and serve immediately with the chips and dip.