Lingham's Classic Nyonya Spring Rolls (Chun Piah)
There's spring rolls and then there's our classic Nyonya spring rolls, this pipping hot taste sensation gets even better when dipped into Lingham's Hot Chili Sauce.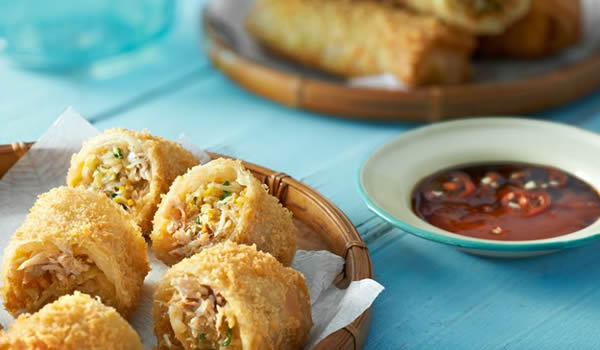 Ingredients:
600g fresh popiah skins
Oil for deep frying
Tapioca starch slurry (made by mixing 3 TBSP tapioca starch with a little water and stirring it into boiling water to thicken)
200g Japanese breadcrumbs
Filling:
500g turnip, julienned/ sliced into fine strips
1 small carrot, julienned
100g cabbage, sliced finely
10 shallots, sliced finely
6 cloves garlic, minced
2 TBSP light soy sauce
Salt and white pepper to taste
100g crabmeat
Method:
Make the filling first by heating 50ml oil in a wok, fry shallots and garlic until fragrant. Add in the rest of the vegetables and fry until softened, season to taste with soy sauce, salt and pepper.
Lastly, stir in the crabmeat and stir fry for another minute. Remove and set aside to cool slightly.
Meanwhile, heat up enough oil in a wok for deep frying.
To make the rolls, spoon some filling onto the popiah skin, roll it up tightly and stick the edges with the slurry.
Repeat until all the ingredients are used up. Spread brush a little slurry onto surface of the rolls and coat lightly with breadcrumbs.
Deep fry over medium heat until rolls are golden brown.
Drain off excess oil and serve immediately with Lingham's Hot Chili Sauce.