Lingham's Spicy Glazed Beef Ribs
Hot and spicy glazed beef is really worth getting your fingers sticky over. The wonderful Lingham's glaze also makes for an addictive tray of spicy chicken wings.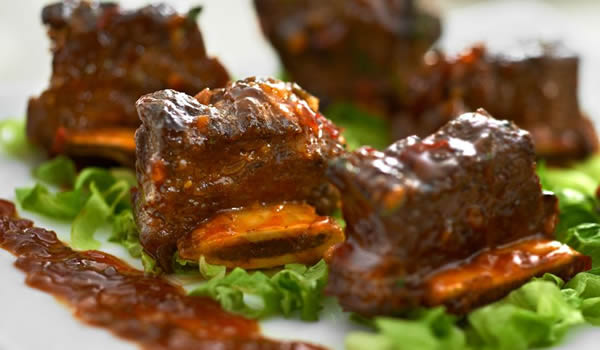 Ingredients:
8 pcs beef ribs
1 TBSP white peppercorn, roughly crushed
1 bulb garlic, crushed with skin on
1 TBSP salt
Water for braising
Lingham's Glaze:
½ bottle Lingham's Chili Sauce
3 garlic, chopped
1 TBSP light soy sauce
Method:
Put ribs, peppercorn, garlic and salt in a pot and add enough water to just about cover the contents. Bring to a boil and reduce heat to braise ribs until tender (approx. 2 hours).
Drain ribs and heat 1 tablespoon salt in a pan, fry garlic until fragrant add in Lingham's Hot Chili Sauce and light soy.
Next, add in the ribs and fry until sauce is thick enough to glaze the ribs.
Serve on a bed of shredded lettuce.