Lingham's Spicy Penang Baba Sandwich (Roti Baba)
This authentic spicy chicken sandwich will really tickle the taste buds. A delicious combination of flavors really suiting those who crave for that spicy hot chili taste. And if there are no spices or chili available, naturally we recommend adding a little extra Lingham's to the mix.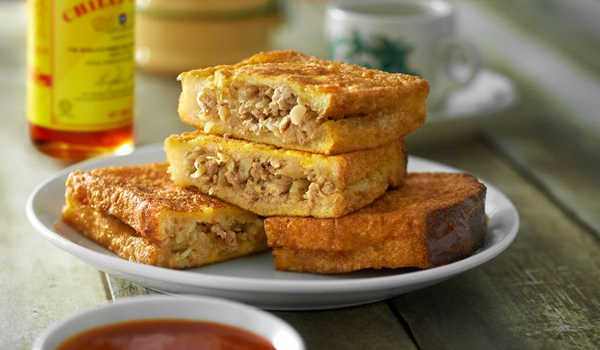 Ingredients:
12 slices roti benggali or Hainan bread with crusts
6 eggs, whisked
Oil for frying
Filling:
300g minced chicken (preferably with a little fat in it) or preferred meat
100g cabbage, julienned / sliced finely
2 big red onions, sliced finely
4 cloves garlic, minced
50ml oil
4 TBSP light soy sauce
1 tsp five spice powder
1 tsp white pepper powder
1 tsp sugar
Lingham's dipping sauce: (mix all together)
4 TBSP Lingham's hot chili sauce
2 TBSP Worcestershire sauce
1 tsp sugar
1 red chili, sliced
Method:
Make up the filling first by heating the oil in a pan and fry onion, garlic until fragrant and starting to brown.
Next add in the chicken, cabbage and ingredients B and continue stir frying until the mixture is almost dry. Remove from heat and let it cool slightly.
Meanwhile, heat enough oil in a pan to fry the bread. To make the roti BB, spread the meat onto the bread to make 6 sandwiches.
Dip and coat sandwiches in the whisked eggs and pan fry until golden brown on both sides. Remove and drain off excess oil on a kitchen towel.
Serve immediately with Lingham's dipping sauce.