Lingham's Ying Yang Meatloaf
This mouth watering savory meat loaf is spicy and a little sour but without doubt one of the most succulent spicy meat dishes you'll taste. And if there's any left over it makes great eating the next day!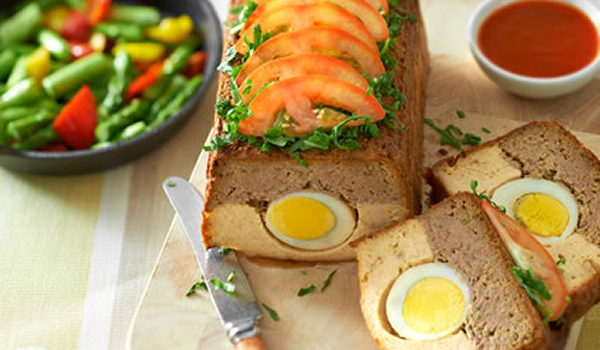 Ingredients:
4 hard boiled eggs
1 tomato, sliced for garnish
1 bunch rocket leaves, roughly chopped for garnish
Chicken Filling:
250g minced chicken
4 garlic, finely minced
2 TBSP light soy sauce
2 tsp white pepper powder
1 pc white bread, soaked in a little milk to soften
1 egg
Beef Filling:
300g minced beef
1 red onion, finely chopped
1 stalk rosemary, chopped
2 tsp salt
1 tsp black pepper
1 egg
1 pc white bread, soaked in milk to soften
Method:
To make the filling, mix ingredients together until well incorporated.
Line a 8" loaf tin with greaseproof paper. Put the beef filling in and spread evenly. Make a drain in the centre and line up the hard boiled eggs in it. Cover with the chicken filling and cover the top with aluminum foil.
Bake meatloaf in an oven that has been preheated to 180C for 1 hour.
Remove from oven and let it rest for 10 minutes. Turn it out and garnish the top with chopped rocket leaves and sliced tomatoes. Serve hot with Lingham's Hot Chili Sauce.