JB Worcestershire
Sauce Stir-Fry Chicken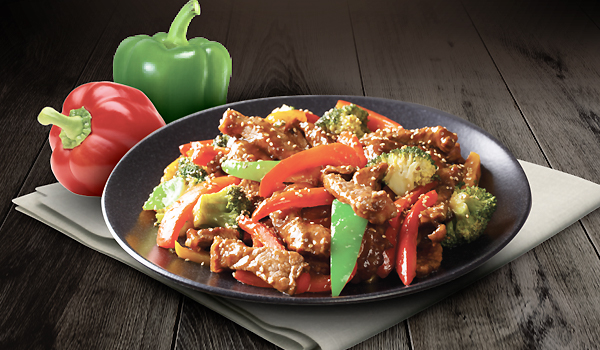 Prep Time
25min.
Total Time
25min.
What You Need:
Part 1: Chicken
1 lb. (450 g) boneless skinless chicken breasts, cut into bite-size pieces
4 tsp. JB Worcestershire Sauce
½ tsp. Salt
1 Cup oil
2 tbsp. corn starch
1 cup wheat flour
Part 2: Sauce
4 tbsp. Tomato Ketchup
2 tbsp. Chili sauce
4 tsp. JB Worcestershire Sauce
1 tbsp. Sugar
1 tsp. grated gingerroot
1 onion, chopped
2 small red and green bell peppers, cut into cube.
1 cup water
Make It:
Mix chicken with JB Worcestershire sauce, salt and corn starch, marinate for 10 minutes.
Coat the chicken with wheat flour.
Heat oil in a large deep wok on medium-high heat. Add chicken and fry for 4 to 5 min, until chicken is golden brown. Remove chicken from wok and serve on plate.
Discard all but 1 Tbsp. oil from wok. Add ginger, onion, red and green bell pepper, stir-fry 1 min. Add tomato ketchup, chili sauce, JB Worcestershire sauce, sugar and water; mix well. Bring to boil; cook and stir 1 to 2 min. or until slightly thickened. Remove from heat; place on fried chicken and serve with rice.