Salmon Fish
With JB Worcestershire Sauce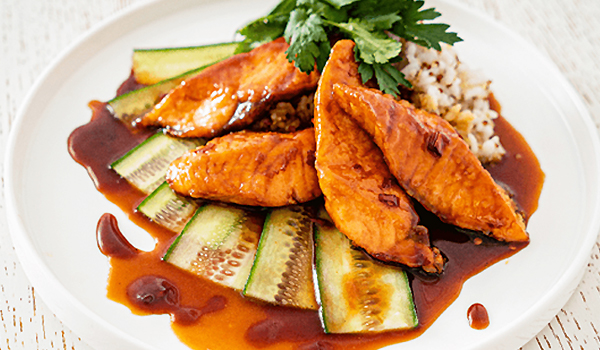 Prep Time
25min.
Total Time
25min.
What You Need:
1/2 tsp. salt
2 salmon fillets (1 lb./450 g)
1/2 cups oil
1 clove garlic, minced
1/2 tsp. grated gingerroot
1 tbsp. soy sauce
1 tbsp. JB Worcestershire Sauce
1/2 tsp. sugar
Make It:
Coat the fish with salt, turning to evenly coat both sides of each fillet with salt.
Heat oil in a large deep skillet on medium-high heat. Add fish; cook 4 to 5 min. on each side or until fish is golden brown on both sides and flakes easily with fork. Remove fish from pan; cover to keep warm.
Discard all but 1 Tbsp. oil from pan. Add garlic and ginger to remaining oil in pan; cook and stir 2 min. Add soy sauce, JB Worcestershire sauce and sugar; mix well. Bring to boil; cook and stir 1 to 2 min. or until slightly thickened. Remove from heat.
Serve fish topped with sauce.